In this article, we will discuss what a clip-in ceiling is and what colors are available for the clip-in ceiling.
What is clip ceiling?
The Clip In type of system enables the tiles to be installed from the underside of the ceiling, so producing an extremely fine joint. This style of metal ceiling offers a near-flush finish while also preventing access to the void, both of which are crucial in specific circumstances. As a result, it continues to be the most common type of metal ceiling. When it comes to producing a ceiling with an appearance that is basic and linear, this product is your best bet. It ensures that the surfaces are perfectly flat, that the product may be used in a variety of ways, and that it will last for a long time.
Uses of the clip-in ceiling:
Aluminum clip-in ceiling styles that are commonly utilized can be broken down into two categories: flat aluminum clip-in ceilings and perforated aluminum clip-in ceilings. The different forms of perforations include round holes, square holes, long holes, triangular holes, large and small combination holes, and other pattern punching, among other variations. Square plates or square clip-in ceilings are the common names for clip-in ceilings in most homes.
This ceiling design is one of the most frequent ones available on the market, and it is also one of the more popular ceiling products. The primary purpose of its application is to improve the flow of air in a variety of public settings. It is extensively used in offices, conference halls, schools, hospitals, exhibition halls, factories, and other places for a variety of purposes. In addition to its ability to dissipate heat and exhaust, it can also spread light uniformly, which makes the entire area appear more open and bright.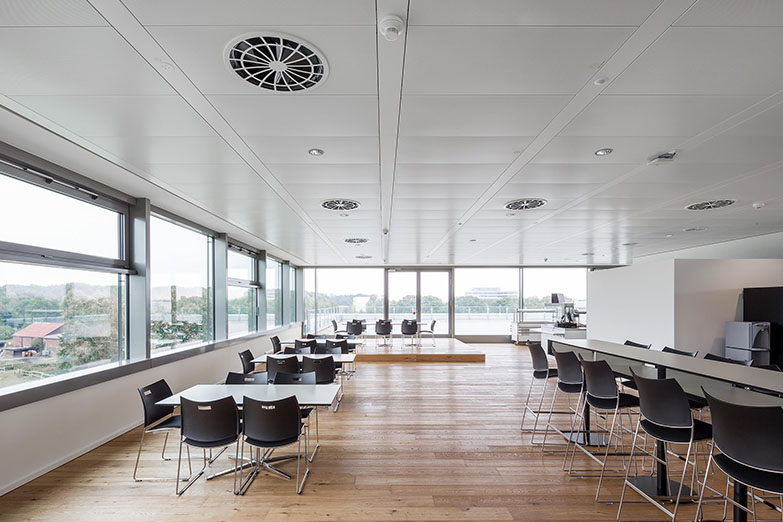 Construction of clip-in the ceiling:
In the clip-in system, ceiling tiles are attached to the suspended runner by use of clips. Because they are easy to clean, clip-in tiles are frequently used in a variety of commercial and industrial settings. The suspended grid is hidden from view by ceiling tiles that clip into the grid and are hung from the ceiling. The galvanized steel and aluminum lay-in tiles that make up this ceiling system each measure 600 millimeters by 600 millimeters and have a thickness of 0.50 millimeters to 1 millimeter. They are either zinc-coated or powder-coated with polyester paint that has 50 microns of thickness. Aluminum tiles are made from aluminum sheets that are 0.35 mm to 1 mm thick and are painted with a powder-coated polyester paint that is 50 microns thick.
Benefits of the clip-in ceiling:

The clip in the ceiling is constructed out of high-quality aluminum alloy, and as a result, it is not only fireproof and waterproof, but it is also very easy to clean and unconcerned about being exposed to fumes from the kitchen or wetness from the bathroom. In the inside ceiling, there will be many pipelines and other facilities, regardless of whether the ceiling is being used for house decorating or tooling. When it is utilized for an extended period, it is inescapable that a few complications will emerge.
The fact that clip-in ceilings may be recycled is by far the most significant benefit offered by these types of ceilings. The clip-in ceiling is extremely valuable due to its composition of pure metal and its high level of residual worth. The size of the work involved in decorating public buildings is typically rather vast, and it requires a significant amount of resources. One of the reasons why many people go with clip-in ceilings is because they can be recycled, which helps cut down on the amount of pollution caused when buildings are torn down or improved. This is one of the reasons why people go with clip-in ceilings.
This system's ease of installation has made it an essential component of today's buildings, and the precision with which it can be put together, combined with the fact that it is so long-lasting, has contributed to its status as a widely used metal tile system.
They make the structure more robust overall. Aluminum ceiling tiles are immune to any circumstances that would ordinarily destroy plaster ceiling tiles because of the substance that they are manufactured from and the way that they are made. They do not decay, break, or absorb moisture in any way, and their consistency is fairly consistent throughout.
It is compatible with lights, audio speakers, fire safety, cameras, security services, and so on which are industry standards. The product has a high level of stability, is resistant to water and fire, and does not oxidize, which means that it is not affected by the aggressive factor that the environment presents.
Features:
The concealed ceiling kind is utilized by the aluminum clip-in flower system, which also utilizes a structurally sound framework.
Clip-in ceilings often come in a wide variety of shapes, sizes, and color options to choose from.
It is a sort of false ceiling that is simple to install and has the potential to completely transform the appearance of the space.
It is a great method to update your décor and may give a room a sense of drama at the same time.
In addition, it can be utilized to draw attention to specific architectural elements or to imbue a space with a dash of whimsicality.
The space above the floor can be utilized in a manner that is less difficult and more productive with the installation of clip-in ceilings, which are specifically built for this purpose.
It creates one-of-a-kind prototypes that have exceptional graphics.
It is sturdy and has a neat appearance, making it appropriate for big open areas.
What colors are available for the clip-in ceiling?
So, what colors are available for the clip-in ceiling?
The design of a ceiling system plays an important role in the interior architecture of a building, and this role can have a considerable influence on the space's overall attractiveness. Ceiling systems can be utilized to produce several styles, ranging from sleek and contemporary to cozy and inviting, depending on how they are designed and installed. ManyBest gives you the ability to choose the shape of your panel, and they also provide a wide range of color options. You have access to more than 3000 different colors to choose from. You can choose the colors and patterns that best suit your preferences. A stunning appearance can be achieved in your room by utilizing a variety of exquisite patterns. You can coordinate the hues of the clip-in ceiling with the walls or windows in your room.
Installation steps of Clip-in ceiling:
Details Of Suspension Accessories for the installation of clip in ceiling:
Explosive bolt
Nut
Hanging pole
Hanger of 38 main carrier
38 main carrier
Connector of 38 main carrier
Triangle keel
Hanger of triangle keel
Connector of triangle keel
Wall angle
Let's see and follow below steps to install your clip in ceiling perfectly:
Step 1: Mark the height of the ceiling with a horizontal line according to the design, and fix the wall angle on the wall at the same level;
Step 2: Determine working direction and fix the hanging pole into concrete roof with explosive bolt in suitable space, the normal space is 1-1.2meter;
Step 3: Fix the hanger of 38 main carrier into hanging pole with nuts;
Step 4: Install the 38 main carriers into the hanger, the distance should accord to the hanging pole;
Step 5: Install the hanger of triangle keel on the 38 main carrier;
Step 6: Install the triangle keel under the 38 main carrier with hanger of triangle keel in the vertical direction, the space of triangle keel accords to the width of the ceiling panel, adjust it level after finishing installation to make sure the ceiling panel just lay on the wall angle;
Step 7: Press the two parallel edges of ceiling panel into the triangle keel slot, firstly install one row of ceiling panels breadthwise and lengthways, make sure they are perpendicular;
Step 8: Install the rest of ceiling panels. Additionally, please wear gloves when installing. If finger printers or stains remain on the ceiling panels, please remove it off with warm water and detergent, then dry it.
Conclusion:
One variety of suspended ceilings known as clip-in ceilings is characterized by its simplicity in terms of both installation and maintenance. Because they are constructed of panels that can be clipped into a frame, the assembly process is brisk and uncomplicated. There is a lot of misunderstanding among consumers that what colors are available for the clip-in ceiling. You have access to a wide variety of color options with ManyBest. You can count on the superior quality of the products that we offer.