Aluminum ceilings are an excellent choice for a modern house. They are fashionable in addition to being simple to install and simple to keep up. They are also long-lasting and can survive for several years. Aluminum ceilings are an excellent method to increase the value of your home and make it more pleasant to live in for you and your family. Let's get acquainted with what aluminum-suspended ceilings are there as well as their definitions.
What is suspended ceiling?
A suspended ceiling system is a false ceiling that is constructed as part of the construction process below the primary foundation. Its purpose is to reduce the overall ceiling height while also concealing the plumbing, electrical, and insulation services. When developing or updating the facilities for a large room, suspended ceilings are a fantastic alternative to consider. The lighting, air ventilation, sound quality, and insulation in open-plan areas may all be better controlled with the help of this ceiling system.
In commercial structures, suspended ceilings are quite common because they offer an advantageous space for concealing unsightly wiring and installations that, if left exposed, might adversely alter the interior design of the building. They refer to a style of finishing in which the ceiling of the room is suspended from the framework of the ceiling above it in the room. It is possible to suspend it from either the roof itself or from a ceiling deck that is composed of structural framing joints.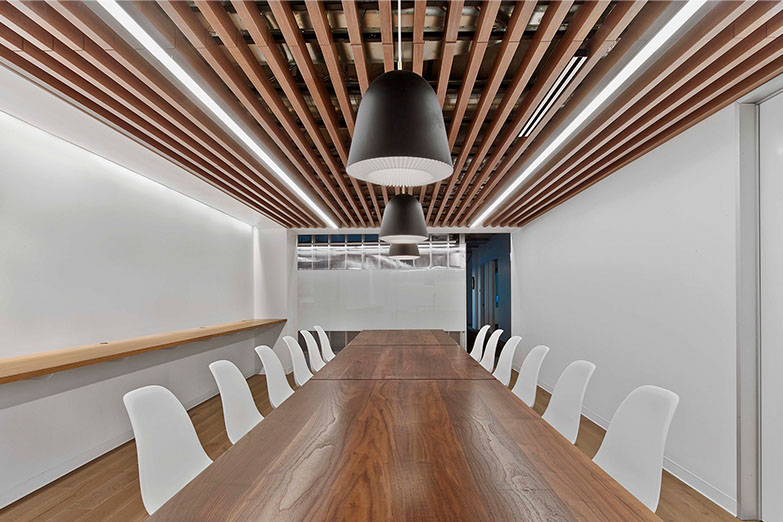 Benefits of the suspended ceiling:
Following are a few benefits of a suspended ceiling.
One of the most compelling arguments in favor of installing a suspended ceiling is the soundproofing properties it possesses. Acoustic tiles are constructed in such a way as to absorb the sound that is produced within a space, and the gap that exists between the tiles and the ceiling deck also contributes to noise reduction. The ceiling of a room can serve two purposes: it can be an effective sound barrier between floors, or it can work very successfully to improve the overall acoustics of the room when sound-absorbing tiles are used.
The fact that suspended ceilings can have tiles that are customized to fit their needs also looks wonderful. They give a pleasing aesthetic look. You have a broad variety of color options to select from, which will allow you to give your room or office the stylish new look that it so richly deserves. In addition to that, there is a huge variety of both designs and styles from which to select. Customers can select from a large number of different finishes because of a suspended ceiling's adaptability in terms of styles and designs.
Not only are suspended ceilings fantastic for reducing noise, but they also look great. They are also wonderful at maintaining the temperature in your space at a constant level. They narrow the area between the floor and ceiling deck, so lowering the volume of available space through which air can move. As a result, your temperature regulation system does not have to work itself to the same degree.
In certain circumstances, such as passageways that serve as exits in the event of a fire, a fire-rated ceiling will be obligatory. A fire-rated ceiling has been evaluated by the manufacturer to ensure that it will maintain its structural integrity for a certain amount of time. This test also determines how well the ceiling can contain a fire and stop it from spreading from one room to another.
What is aluminum suspended ceilings?
Aluminum Suspended Ceilings are sometimes referred to as drop ceilings. It is a form of finish that is hung in a room just beneath the primary aluminum ceiling framework. This indicates that an aluminum-suspended ceiling does not provide a permanent structural foundation but rather functions as a covering for the more substantial framework that is located above it. If you want to hide the ducting and pipes in your ceiling, lower your ceiling, or save money on your utility costs, one type of aluminum ceiling is an excellent option to consider. Aluminum Suspended ceilings and metal ceiling tiles are developed and built to the highest standards, and they offer a highly effective solution for a variety of applications. Aluminum Suspended ceilings and metal ceiling tiles are available in a variety of colors and styles.
Applications of aluminum suspended ceiling:
Aluminum suspended ceilings are structural elements that are frequently used in buildings that are designed for industrial purposes. They contribute to the comfort of the space by playing a role in providing various requirements, such as heat insulation, sound insulation, lighting, and ventilation of the area. In addition, suspended ceilings are favored because they raise the aesthetic value of the area, conceal the installations, and produce the appearance of a flat ceiling.
What aluminum-suspended ceilings are there?
Let's know ''what aluminum suspended ceilings are there?''
The lay-in type of metal ceiling, the clip-in type of metal ceiling, the plank type of metal ceiling, and the open-cell type of metal ceiling are some of the most important variations of Aluminum Suspended Ceiling. There is a wide variety of options available for these ceilings, including thicknesses, quality levels, coatings, and colors.
These ceiling systems made of aluminum are extremely long-lasting and sturdy. When compared to any other ceiling, this one is significantly simpler to clean and install, and you have the option of using it for either home or commercial/industrial purposes, depending on your specific requirements. Pipes, ducts, and cables are relatively easy to conceal behind these ceilings thanks to their design.
Advantages of aluminum suspended ceilings:
Easy installation:
Due to the ease and speed with which they may be installed, aluminum suspended ceilings are frequently utilized in areas with expansive floor plans. The fast tensile spring attachment is employed across typical ceiling grid systems to provide a level of simplicity that is unmatched by any other option. This indicates that you will be able to finish new construction or renovations more quickly as you won't have to wait for a standard drywall ceiling to be finished before you can move on to the next step.
If there is a water leak or some other damage to the aluminum suspended ceiling system or the building elements that are housed above it, repairs and replacements are simple and may be done in a short amount of time. It is possible to replace a broken panel with a brand-new one at any time without affecting the functionality of the system as a whole. If all that needs to be done to fix the problem is to clean up the mess left by a water leak, the aluminum ceiling panels can be removed, cleaned, and then put back in place.
Aluminum suspended ceilings that have been equipped with acoustics are capable of blocking all of the sounds that come from the outside. This is an excellent component to install in workplaces or leisure rooms to make those areas significantly cozier and quieter. A diverse offering of colors and kinds of material to pick from. In addition, there are some panels available for aluminum suspended ceilings that offer an increased level of fire safety, making this material another option that is risk-free to use.
The selection of an aluminum-suspended ceiling provides the space with illumination at the appropriate level while simultaneously lowering the amount of electrical energy that is necessary to illuminate the area. This is especially important in areas where powerful lighting is required.
Your preferences can be taken into consideration while designing the ceiling made of aluminum suspended metal. This involves providing a wide variety of color options and surface finishes, as well as working with any distinctive aspects of your office or commercial building to ensure that the ceiling complements those aspects in an aesthetically pleasing way.
Installing a suspended ceiling, which lowers the overall ceiling height within a space, is an effective way to capture the warmer air that is already present in the room and prevent it from escaping through the top of the ceiling. This can be accomplished by simply installing a suspended ceiling. This not only makes the area more comfortable, but it also reduces the amount of money spent each month on energy costs.
Conclusion:
Aluminum-suspended ceilings are utilized in a wide variety of applications. We hope you're clear about what aluminum suspended ceilings are there. ManyBest is dedicated to providing the highest possible level of customer satisfaction by offering knowledgeable and professional services as well as high-quality supplies. We can help you install suspended ceilings quickly and efficiently to ensure that there is the least interruption caused to your project; thus, please get in touch with us as soon as possible to learn more about how we can assist you.