What is a baffle ceiling?
The use of baffle ceilings is perfect for the process of establishing an ambiance within a particular space. These constructions of an open ceiling make it possible to see both the plenum region and the concrete ceiling located above. When a unique design or an upgrade to the acoustic sound is required for space, their application as a remedial installation on concrete ceilings is one that they are particularly suited for. Concert halls, theatres, conference rooms, and other types of rooms where the quality of the sound is essential can all benefit from the addition of baffles to improve the acoustics.
Why Baffle ceiling is useful?
The use of baffle ceilings is an excellent method for controlling undesirable acoustic concerns like reverberation and drifting noise. They have the potential to aid increase speech intelligibility, which is something that can be particularly significant in settings such as classrooms, and they can also assist in meeting requirements. The exposed nature of the roof can be seen through baffle ceilings, which also contribute to the airy and open atmosphere that these ceilings produce. When utilized to attempt to repair acoustic problems in a building that have historically been a concern, they can be quite effective when used in that capacity.
What is aluminum baffle ceiling?
Let's get to know what is aluminum baffle ceiling. The aluminum baffles are constructed using both aluminum extrusions and aluminum plates in various configurations. The design of the baffle might take the form of a square, rectangular, round, or even a bespoke shape. A false ceiling constructed from strips of aluminum might be referred to as an aluminum Baffle Ceiling. Buildings in the commercial and industrial sectors frequently make use of it.
The visual presentation can be altered by installing the aluminum baffles at varying heights, which results in a different appearance. It offers one-of-a-kind combinations of materials, patterns, orientation, profiles, and finishes, as well as integrated lighting solutions for a variety of environments, including airports, railways and metro stations, offices, cafes, retail spaces, and residential flats, among others. These baffle ceilings are well-known for the one-of-a-kind modular design that they feature.
How do they work?
In big rooms that have concrete ceilings, installing aluminum baffle ceilings can help improve the room's acoustics while also contributing to the room's particular design aesthetic. They can improve the atmosphere of a single room or an entire complex, making for a more pleasant place to work at an office or a more enjoyable visit to a commercial structure. The aluminum baffles absorb direct as well as reverberating noises, which results in a decrease in the number of reverberations and echoes in the room or region.
For what reasons aluminum baffle ceiling is important?
Aluminum baffle ceiling tiles are only an extra use for the metal to be used inside of a house. Aluminum has the same advantages inside of a building as it does outside, including resistance to fire and a variety of aesthetic options for finishing. The increased effectiveness of heating and cooling caused by an aluminum ceiling in a building helps to reduce overall utility expenses. They have several advantages in comparison to foam or gypsum on top. In addition, they are easy to clean and have a high level of durability. They are significant for several different reasons.
Aluminum baffle ceilings are more durable than standard materials used for dropped ceilings. As a result, they are less susceptible to cracks and falls, and at the same time, they offer transparent access to the void. The majority of buildings have wires and ducts that operate, and they also place environmental filters inside the ceiling vacuum. In addition, there are sensors and several other safety components installed in the ceiling.
Aluminum ceilings can help absorb sound or divert it in such a way that an echo chamber is not created. The aluminum grid ceiling offers sound absorption in addition to expression transparency, both of which are features that cannot be obtained in standard ceilings constructed with fleet or mineral wool inlays. When ceilings have high inlays, the sound that comes from neighboring regions is muffled.
Metal ceilings can be customized in terms of their designs, textures, and finishes in a wide variety of ways. False ceilings made of aluminum can be painted or coated in any color, ranging from the roughness of an old tin roof square to a smooth, seamless surface in signature hues. It is possible to make it resemble something else.
One approach to make use of this kind of material is to create a ceiling made of hideous plaster. In addition to this, they offer a variety of artistic forms. The difference in appearance might be attributed to the underlying supports in curved systems or the production of differing heights. They are both economical and adaptable in nature.
Benefits of the aluminum baffle ceiling:
Aluminum baffle ceilings are typically constructed using steel and aluminum, which are two of the most environmentally friendly building materials.
Metal is a high-quality material that, due to its design flexibility, offers superior aesthetics.
They are extremely long-lasting and sturdy, and metal keeps its appearance for a very long time after other materials need to be replaced.
In the long run, the cost of the metal is lower compared to that of alternative materials.
Aluminum satisfies all of the building rules as well as the requests of the customer.
It is open and well-ventilated, its lines are nice and tidy, and its layers are transparent, all of which contribute to the decoration having a style that is straightforward, attractive, and basic.
The aluminum baffle ceiling is a sort of metal baffle ceiling, and the durability and tensile strength of the metal material make it an excellent choice.
Simple assembly using the industry's standard carriers. It may be simpler to install the suspended system, and it may also provide easier access to maintenance and the installation of extra utilities like lighting, sprinklers, and climate control systems.
It is extraordinary in its ability to ward off flames, rust, and dampness.
When employed in houses or any other setting, they have an attractive appearance.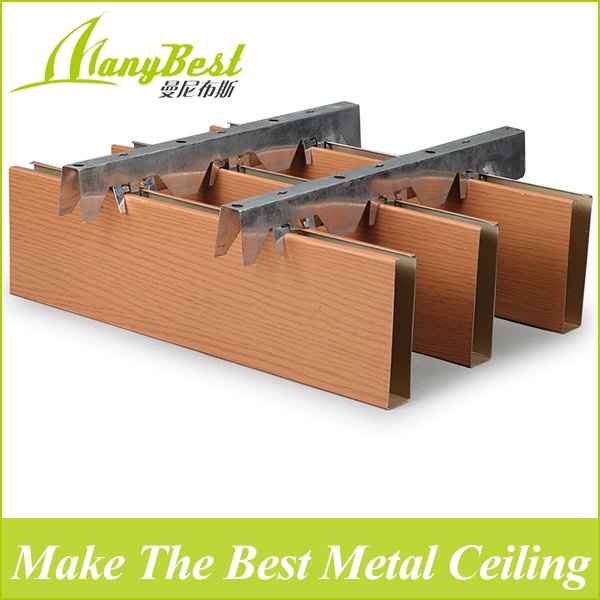 Different options for aluminum baffle ceiling:
U-shaped aluminum baffle ceiling: 
Using either a rolling or forming technique, 1100 or 3003 aluminum panels are used to construct a U-shaped baffle ceiling made of aluminum, and the ceiling's suspension grid is a type of keel snap structure.
The 6063 or 6061 aluminum alloy is used in the production of the extruded aluminum baffle ceiling. This ceiling is created using the extrusion method. The U-shaped baffle can't compare to its rival in terms of its level of hardness and straightness. The baffles are connected to its suspension grid using screws.
The extruded aluminum baffle might take the shape of a rectangle, a square, a circle, or one that is developed specifically for the application. The extruded aluminum baffle ceiling has quickly become the most popular series of metal baffle ceilings among architects and others who work in interior buildings.
Aluminum Baffle ceilings are versatile:
Baffles made of metal or aluminum provide you the opportunity to create without any restrictions. You can Angle them to create the appearance of a vaulted ceiling, or you can Position them Straight to get a clean aesthetic with uninterrupted lines. The employment of curves, arcs, and radii in unexpected combinations can produce a sense of movement that is both fun and dynamic.
In addition to this, your imagination is free to run wild with a wholly unique design. The adaptability is not limited to the shape or format of the item. They provide a creative selection of colors, both standard and unique, for you to choose from so that your designs can go even further. As a result of the inclusion of wood veneer and powder-coated wood- or natural stone-look finishes in addition to aluminum or metal baffles, these baffles can even assume the appearance of components that are not made of metal.
Why choose ManyBest?
ManyBest has been working with aluminum products for the past 13 years, during which time we have established ourselves as a highly specialized manufacturer and supplier of metal ceilings and decorative panels. Every one of our items finds widespread application as a ceiling, fence, or wall decoration in a variety of settings, including commercial buildings, train stations, airports, schools, hotels, shopping malls, and dining establishments, to name just a few. We constantly give service that is attentive to the needs of the customer and personnel. If you choose us, we can make your area look more fashionable while also increasing its comfort. You will adore our products.
Conclusion:
After reading the article, we hope you are clear about what is aluminum baffle ceiling and its details. The aluminum baffle ceiling system has gained a lot of popularity in recent years due to its advantages. To begin, it possesses exceptional flexural and tensile strength, qualities that make it particularly suitable for use in both commercial and residential construction. The second advantage is that it is really simple to put up and maintain. Making it an excellent choice for individuals who are not experienced with various ceiling systems. If you want a baffle ceiling of good quality, ManyBest is the place to get it.