Ⅰ. Look For Companies With An Aluminum Fabricating Background.
There are many companies that make perforated metal mesh panels, so finding one that meets your needs is not difficult. You will want to look for companies with an aluminum fabricating background rather than just using sheet metal cutters or other equipment that does not have the proper tools for making these types of products.
You will also want to make sure that the company has experience working with metal mesh panels because this type of product requires a lot of different processes and techniques to be successful. The more experienced a company is with this type of product, the better chance you have of getting exactly what you want from them when it comes time to purchase your new fence or gate system.
For example, the company ManyBest has extensive experience in designing and manufacturing custom metal mesh panels.
Aluminum is a lightweight material that is easy to install and maintain. It's also more affordable than other types of metals such as steel or stainless steel.
ManyBest's products range includes:
1) Aluminum Mesh Panel
An aluminum mesh panel is a panel made from aluminum that has a mesh-like structure. This type of panel is often used for a variety of purposes, including as a protective barrier, as a decorative element, or as a support for other materials. Aluminum mesh panels are known for their durability, corrosion resistance, and lightweight. They can be used in a wide range of applications, including construction, architecture, and industrial settings.
2) Aluminum Screen & Fence
An aluminum screen and fence is a fence or screen made from aluminum. This type of fence or screen is often used for residential or commercial purposes, and it is known for its durability, corrosion resistance, and lightweight. Aluminum screens and fences are available in a variety of styles and designs, and they can be customized to meet the specific needs of the user. They are often used to provide privacy, security, and decoration in outdoor spaces.
3) Aluminum Baffle Ceiling & Wall
An aluminum baffle ceiling and the wall is a ceiling or wall made from aluminum that has a series of horizontal or vertical baffles. These baffles are designed to reduce the amount of sound that passes through the ceiling or wall, making them useful for noise control in commercial or industrial buildings. They are often used in buildings with high ceilings, such as warehouses or factories, to improve acoustics and reduce noise levels.
4) Aluminum Standard Ceiling
An aluminum standard ceiling is a ceiling made from aluminum that is used in a variety of building types, including residential, commercial, and industrial. They are available in a range of styles and designs, and they can be customized to meet the specific needs of the user. Aluminum standard ceilings are often used in buildings with high ceilings, such as warehouses or factories, to provide a clean and modern look.
Ⅱ. Check Into The Company's Reputation.
Before getting started, check into the company's reputation. Is it a member of the Better Business Bureau? Can you find out about any complaints made against it? Such as ManyBest Metal Mesh Panel Manufacturers. They have a good reputation because they've been in business for a while and they have a lot of experience in the industry.
If your contractor is not a member of the BBB, look for other signs that he or she is reputable. Ask for references from other customers and do some research on the Internet. If there are any complaints about the company, read them carefully before deciding whether or not to hire them.
The next step is to discuss your project with someone from the company who can give you an estimate and answer any questions you might have. Make sure they are available during normal business hours so that they can make arrangements to come by your home or office at a convenient time.
Ⅲ. Make Sure Your Selected Manufacturer Is Licensed And Insured.
It is important to make sure that the stainless steel wire mesh manufacturer you choose is licensed and insured. A licensed manufacturer has the necessary permits and approvals to produce the products you are interested in, and they are subject to government regulations and oversight. This can help ensure that the products you receive are of high quality and meet industry standards.
An insured manufacturer has insurance coverage in case of accidents, injuries, or other unforeseen events. This can provide protection for both the manufacturer and the customer, and it can help to mitigate potential risks and liabilities.
Make sure your selected manufacturer is licensed and insured. This will ensure that they are reputable and have valid business permits. You can check the license by going through the license bureau of your state or by checking the website of the state where they operate their business.
Check if they have legitimate customer service representatives who can answer all your questions about their products or services at any time during business hours or even after hours in case of emergencies or concerns with their products or services.
Luckily, ManyBest is here to help. ManyBest has been in business for many years and has supplied tens of thousands of satisfied customers with high-quality metal mesh panels. ManyBest has licensed and insured, so you can rest assured that your purchase will be top-notch in every way.
Ⅳ. Metal Mesh Panel Manufacturers Should Be Able To Do Custom Work If Needed.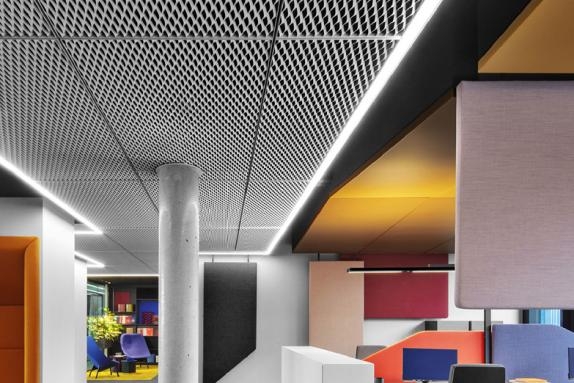 Metal Mesh Panel Manufacturers such as the company ManyBest should be able to do custom work if needed. ManyBest has more than 20 years of experience in the metal mesh industry. ManyBest's work is guaranteed by customers, and ManyBest has a good reputation in the aluminum product area.
Metal Mesh Panel Manufacturers should have a showroom where they display their products. This is important because it allows clients to see all of the options available to them before making a decision on what they want.
If you are looking for Metal Mesh Panel Manufacturers, then you should make sure that they can get it done quickly, efficiently, and at an affordable price. They should also be able to provide samples of previous work if you need them in order to help you decide which company to work with.
As an all-in-one aluminum products manufacturer so ManyBest can provide custom-sized projects for indoor and outdoor use. ManyBest is able to produce mesh panels of any size, shape, or material type. These include stainless steel and aluminum mesh panels, which can be used for both residential and commercial applications.
Ⅴ. Look For Manufacturers Who Offer a Comprehensive List Of Services.
Look for manufacturers who offer a comprehensive list of services. Whether you need metal mesh panels fabricated, painted, or installed on-site, you should be able to find a manufacturer who can provide all three services.
The best metal mesh panel manufacturers will be able to offer a wide range of options for your project. They should have different types of metals and finishes available, as well as a variety of sizes and shapes.
In addition to providing the materials that you need for your project, it's important for manufacturers to be able to install the panels. Many people are comfortable with DIY home improvement projects, but this isn't always the case. If you aren't comfortable installing your new metal mesh panels yourself, look for a manufacturer who offers installation services as well as other services such as design consultation.
You may also want to consider hiring an architect or designer if you're planning an extensive remodel or new construction project. Architects are trained professionals who can help you plan out exactly what type of look you want in your home or business space. They can help determine what materials would work best on your walls and ceilings as well as recommend colors and finishes that will go well with the rest of your decorating scheme.
However, if you choose ManyBest, you don't need to worry too much about these problems, ManyBest will provide professional services according to your needs to meet all your needs. ManyBest not only provides aluminum materials but also gives you other services such as project design, technical support, etc.
Conclusion
As one of the high-quality Metal Mesh Panel Manufacturers, You can trust the company ManyBest which has the necessary skills and experience to provide the best metal mesh panels possible.
ManyBest is a leading manufacturer of metal mesh panels. ManyBest has more than 20 years of experience in customized aluminum product manufacturing and supplying a wide range of products including LED lights, ACP, aluminum columns, fiber ceilings, gypsum board, and so on. ManyBest is dedicated to providing customers with high-quality products at competitive prices.
ManyBest products are widely used in industries such as construction, mining, road building, and so on. ManyBest also offers customized services according to your requirements. If you're interested in ManyBest's products or need more information about ManyBest, please feel free to contact ManyBest at any time.