Preparation Before Selection of Customized Aluminum Ceiling & Panel
As one of the best Metal Mesh Panel Manufacturers, ManyBest provides the best service and unique design at a comprehensive price. Their products come in different colors and sizes, so you can choose one that meets your needs exactly. There are many things you need to know before you choose the right exterior decor wall panel or aluminum carved panel for your needs so let's discuss some tips as follows.
You always need to prepare a bit before you can pull off a successful project. If you want to complete a project better and faster, this is a good choice to cooperate with ManyBest to achieve a win-win situation. ManyBesty has completed more than 5,000 projects in more than 100 countries with rich experience and provides services such as product design and production.
1. Facility Type
If the building is for commercial use, then there are some differences between the requirements for an office building and a commercial warehouse or factory. The basic construction materials are almost the same, but there are subtle differences in the size of the panels and how they're used.
2. Functional Requirements
The purpose of the aluminum ceiling is also very important to consider before selecting one. If you need to have a decorative effect, then you can choose a patterned panel with a clear-coated finish so that it looks like metal. If you want something more functional than decorative, choose a flat panel with no coating or pattern on it. You can also choose from different colors or textures according to your preference and needs as well as the color scheme of your building or room.
Options To Consider For Customized Aluminum Ceiling & Decorative Panel
If you are looking for a high-quality and durable aluminum ceiling or decorative panel, you will find many options to choose from. These panels are popular for their strength and durability. They can be used for a variety of applications and can be made to fit your needs.
There are many different types of aluminum ceilings available on the market today. Some of them are made from aluminum sheets or strips that are cut into different shapes and sizes, while others are formed from a single sheet of metal that is bent into various shapes. The most common types of aluminum ceilings are: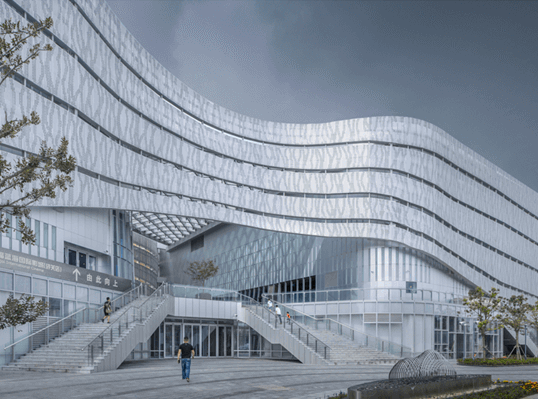 1. Flat Aluminum Panel
A flat Aluminum Panel is a type of aluminum sheet metal that has been formed into a flat shape. Aluminum sheets are often used in a variety of industries, but they can also be used for residential purposes. The flat aluminum panel can be cut to the desired size and shape to fit your needs.
2. Punching Aluminum Panel
Punched aluminum panel is a simple way to create an attractive ceiling, wall, or floor that is easy to install and maintain. The design possibilities are endless, with over 100 different patterns available on the market today.
3. Art Carving Aluminum Panel
Art-caving aluminum panel has beautifully carved patterns that look amazing when installed over the ceiling. You can choose from different designs and styles of this type of panel according to your needs. This type of panel comes with an attractive look and it comes with high durability as well.
4. Shaped Aluminum Panel
If you want to add an interesting exterior decor wall panel architectural element to your building that will stand out from the rest, then consider using shaped aluminum panels. These materials can be used in many different ways, but they tend to be most effective when they're used as accents on the exterior of a building.
5. Column Aluminum Panel
Column aluminum panel is available in many designs, sizes, and shapes. It is also available in many colors so you can choose one that best suits your needs. If you want to get more information about this type of product, then you can visit the superior aluminum column installation ManyBest website where ManyBest has uploaded some useful information about it.
6. Aluminum Mesh Panel
The aluminum mesh panel is a type of aluminum ceiling and decorative panel that you can use for your home or office. It is made from high-quality aluminum and comes in various shapes and sizes which are more comprehensive than stainless steel wire mesh. You can choose to have it customized according to your needs.
Expect above all, ManyBest aluminum stretch ceiling in china has other ceilings and panels for you to choose from according to your needs.
Reasons To Use This Type Of ManyBest Ceiling System
Metal ceiling systems especially aluminum ceiling systems are ideal for commercial spaces. The cost of a metal ceiling is cheaper than other materials and it is also very easy to install. With the development of enterprise, ManyBest formed a complete system of product development, production, sales, and service. Here are some of the reasons why many businesses choose this type of ManyBest Aluminum Ceiling:
1. Durable
A metal ceiling can last you a lifetime. This is because it does not corrode or oxidize like many other materials do when exposed to water and air for long periods of time. Aluminum ceilings can withstand even harsh weather conditions, such as extreme heat and cold, without suffering any damage at all.
2. Fire Resistant
If you have a fire in your building, aluminum will not catch on fire easily because it has a low thermal conductivity value that does not allow high temperatures to pass through its surface easily. This makes it an ideal material for your building's roof structure since it will help prevent fires from spreading quickly throughout the area.
3. Easy Installation Process
Aluminum ceilings are lighter in weight than other materials such as concrete or wood, which means they can be installed faster than other types of ceilings! They also don't require any special tools or heavy machinery so you don't need a professional crew to install them either.
Metal Mesh Panel Manufacturers—MangBest
MangBest is a leading aluminum mesh panel manufacturer in China and has been engaged in the production of customized metal mesh panels for over 12 years. As a top-level manufacturer, ManyBest's products are sold worldwide and have been exported to more than 100 countries and regions, such as Europe, America, South America, and Southeast Asia. ManyBest's main products include an aluminum grille, aluminum ceiling panels, and so on. In addition to high-quality products, we also provide customized services.
ManyBest has advanced equipment and professional technicians who have rich experience in producing aluminum grille and ceiling panels for many years. What's more, ManyBest has strict quality control procedures to ensure that every product meets international standards. All products are 100% tested before shipment. If you find any issue with ManyBest products during installation or use, please feel free to contact ManyBest immediately for assistance.
Other Aluminum Products Of ManyBest
ManyBest Aluminum Products is dedicated to providing high-quality aluminum products and services. ManyBest prides itself on its ability to customize products to meet your needs and budget. The other aluminum products in ManyBest are as follows.
1. Aluminum Screen & Fence
Aluminum screens & metal fence panels are used to protect against sun and rain. Aluminum screen & fence panels are made of aluminum alloy and have good corrosion resistance, high strength, and toughness, good thermal conductivity, not easy to deformation and aging, and high-temperature resistance. At the same time, laser-cut privacy fencing panels can also be used as a metal privacy screen or decorative screen.
2. Aluminum Baffle Ceiling & Wall
The aluminum baffle ceiling & wall panel is made of high-quality aluminum alloy and can be customized according to your requirements. It's lightweight, easy to install, fireproof, waterproof, and anti-corrosion. An aluminum ceiling and laser-cut aluminum fencing wall are one of the most classic and popular products in the aluminum industry. With its unique design, it can be widely used in different places such as offices, hotels, restaurants, schools, and so on.
3. Aluminum Standard Ceiling
The ManyBest Aluminum Ceiling is made from high-quality aluminum alloy board which has excellent corrosion resistance properties and good formability. It has a smooth surface and a beautiful appearance. Custom metal ceilings such as laser-cut metal aluminum linear ceilings also have excellent fireproof performance, so they can be used in all kinds of places such as warehouses, office buildings, residential buildings, and other public places without any risk of fire damage to the building structure itself.
Hopefully, you already get useful information from here and have a good choice. If you really don't know how to distinguish the right superior aluminum column installation, decorative exterior decor wall panel, or others, choosing ManyBest is a good idea because ManyBest uses professional ability and the best service to provide designs and products to better meet your needs.