What is a customized aluminum perforated ceiling?
A customized aluminium perforated ceiling is a practical and attractive way to improve any room's décor. This specialized ceiling design is a common option in contemporary architecture and interior design since it is created to satisfy the specific needs and preferences of the customer.
Aluminium is a great material for perforated ceilings because of its reputation for being both lightweight and strong. It is appropriate for various contexts, including domestic interiors and commercial spaces, thanks to its longevity, corrosion resistance, and ease of maintenance. The aluminium panels' perforations have both practical and ornamental uses. They enable better acoustics by absorbing sound, lowering noise levels, and improving voice clarity in settings like workplaces, auditoriums, and restaurants. These ceilings' ability to be customized opens up a broad range of design options. Clients can select from various perforation patterns, hole sizes, and panel finishes to suit their design concept. Any place can be turned into a piece of art while also being more utilitarian by including a design, whether a simple and streamlined aesthetic or a more complex and creative one.
Why Customized aluminium perforated ceilings are the best option for your environment?
Are you trying to find a method to give your room more class and style? Customized aluminium perforated ceiling is your best option. They provide a fusion of practicality and beauty that can turn any space into art. These outstanding design features have come to be recognized as a characteristic of contemporary architecture and interior design. In this blog article, we'll dig into the world of personalized aluminium perforated ceilings, discovering what makes them unique.
Aluminium: The Perfect Material, Unveiled
The magic of aluminium, a substance renowned for its outstanding qualities, is at the core of bespoke aluminium perforated ceilings. Aluminium is a fantastic material for use in a variety of contexts since it is not only lightweight but also highly strong. Because it doesn't rust, it may flourish in moist or humid environments, making it ideal for use in both commercial and domestic settings. Aluminum's inherent strength guarantees that your ceiling will last the test of time with no maintenance needed.
Perforations Bring Beauty and Function Together
The thoughtful placement of holes is one of these ceilings' distinguishing qualities. These small holes have practical and aesthetic uses; they're not merely for show. The holes improve acoustics by absorbing sound, lowering noise levels, and boosting voice clarity. Customized aluminium ceilings are a great option for places like workplaces, auditoriums, and restaurants where noise reduction is crucial. The perforations offer a wide range of aesthetic design options. Customers have a large selection of perforation patterns, hole sizes, and panel finishes, enabling total customization to meet your distinctive design concept. Aluminium perforated ceilings may realize your idea, whether you want a simple, modern aesthetic or prefer something more elaborate and artistic.
The Appeal of Personalization
Where these ceilings truly excel is in customization. You may adjust each component to your requirements and tastes. The following are some elements you can change:
Perforation Patterns: Select from various patterns, including traditional geometric forms and detailed, one-of-a-kind creations that suit your taste.
Control the size and density of the holes to strike a balance between acoustic performance and aesthetics precisely.
Panel Finishes: To get the ideal appearance and feel, choose from various finishes, including matte, gloss, or textured surfaces.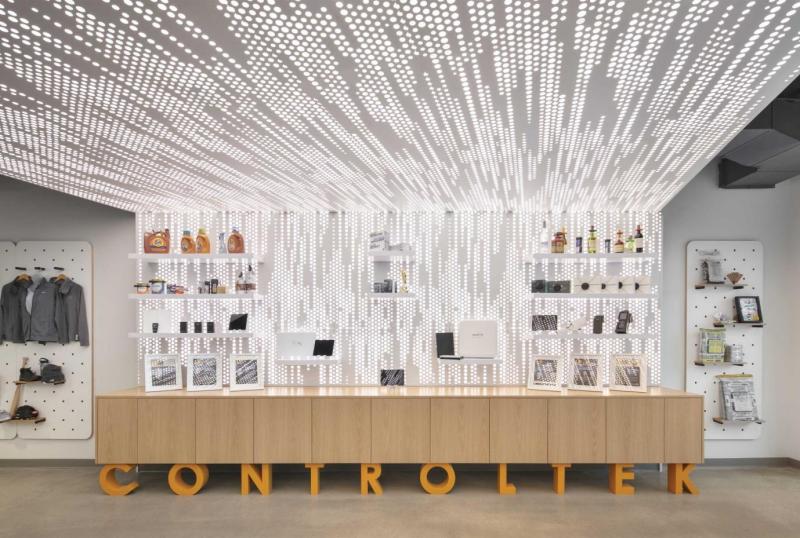 Benefits That Go Beyond Beauty
Customized aluminium ceiling provides advantages beyond merely looks and sound absorption. Additionally, they were created with practicality in mind. Because of the effective ventilation provided by these ceilings, the interior environment is safe and comfortable. They can have hidden lighting options that offer calming, diffused lighting that enhances the room's mood. Additionally, they make it simple to maintain and make any prospective future improvements by allowing easy access to utilities and systems above the ceiling.
Renovate Your Space
If you want to enhance your area's beauty, style, and usefulness, a customized aluminium perforated ceiling is the ideal choice. Their fusion of design and function makes for an exquisite centre of attention in any space. These ceilings can raise your surroundings to new levels of elegance, whether in a business setting, a stylish eatery, a modern house, or any other area where design counts. They open a world of creative possibilities since you may customize every element to fit your vision. Don't settle for ordinary when remarkable is available. They may now elevate your space while adding functionality and timeless beauty.
How to enhance visual appeal in interior space with customized aluminium perforated ceilings?
These ceilings offer a sleek, modern style that improves the overall mood, making any interior space more appealing and visually spectacular, whether utilized in domestic homes, workplaces, or commercial spaces. A customized aluminium perforated ceiling provides countless design options and is a flexible and efficient method to improve interior spaces. By reducing sound, they provide acoustic benefits that improve comfort and communication in a place. They also allow greater ventilation and airflow management, making the space cosier and energy-efficient. The holes in the aluminium panels may be altered for functional and aesthetic reasons. They enable innovative and dynamic lighting strategies, producing alluring patterns and shadows around the space and quickly boosting its aesthetic appeal.
Conclusion:
Aesthetics and utility are the two main factors that need to be considered while designing any place's interiors, whether it be a business establishment or a residential property. Using customized aluminium perforated ceiling in contemporary environments is a popular ecological option. ManyBest offers project design services, shop drawings, material calculations, and technical assistance, among other things, by various project specifications. Offering each client, a one-stop shop for services. Make your place more stylish and comfortable by choosing us. You'll adore both our personnel and our products.