The introduction of curtain wall aluminum profile fabricator:
Manybest, a specialized producer known as a curtain wall aluminum profile fabricator, produces the essential components of curtain wall systems utilized in modern buildings. These systems, sometimes viewed as the outside shell of modern buildings and skyscrapers, are composed of aluminum frames that hold glass or other façade materials. The fabricator plays a key part in creating the aluminum profiles utilized in these walls by designing, engineering, and producing them. These profiles must adhere to strict performance and quality requirements in order to guarantee their longevity, energy efficiency, and building code compliance. Selecting a trustworthy fabricator is essential to effectively install visually beautiful, weatherproof, and useful curtain walls.
Choosing a Reliable Curtain Wall Aluminum Profile Fabricator is Important
Modern buildings now routinely have curtain walls because of their clean, contemporary features. These facades made of glass and aluminum panels not only improve the appearance of the building. It also ensures its structural integrity and energy efficiency. Choosing a reputable curtain wall aluminum profile fabricator is essential for a successful curtain wall installation. Here are some reasons why this choice is so crucial.
Quality Control: Reliable fabricators uphold exacting standards for quality. They use premium aluminum alloys and cutting-edge production processes to make sure the profiles are long-lasting and weatherproof. With this level of quality control, your curtain wall will last longer and require less maintenance over time.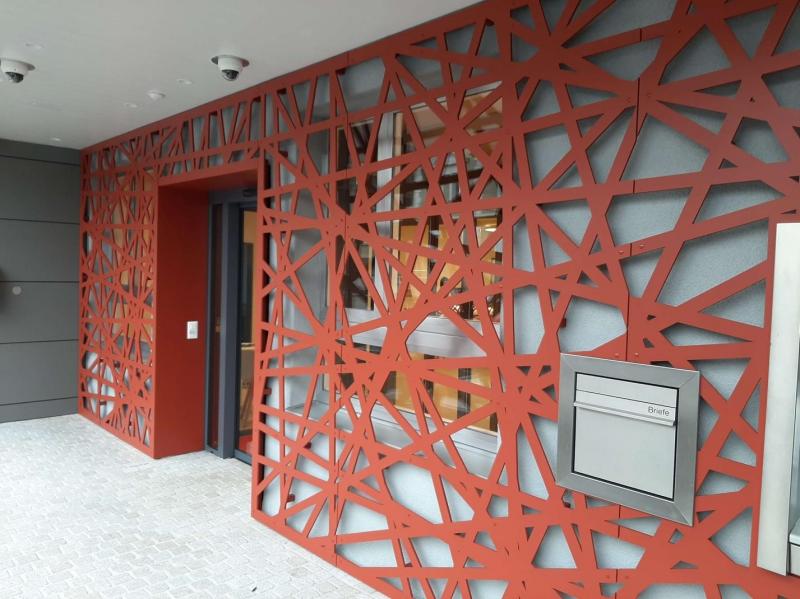 Architectural Integrity: The aluminum profiles you choose may greatly influence how your structure looks as a whole. A professional fabricator can provide a large selection of profiles in a variety of finishes and styles. They collaborate closely with architects and builders to make sure the curtain wall enhances the structure's design while maintaining its architectural integrity.
Energy Efficiency: Curtain walls are essential to a building's ability to use energy efficiently. Thermally fractured aluminum profiles from a trustworthy fabricator can aid in reducing heat transmission between the building's interior and exterior. This thermal insulation improves passenger comfort while simultaneously lowering energy usage.
Weather Resistance: Because curtain walls are outside, weather resistance is crucial. Reliable manufacturers conduct extensive testing of their profiles. To ensure they can withstand harsh weather conditions including heavy rain, strong winds and temperature changes. This resistance prevents air leakage and water intrusion into the building's interior.
Observance of Building Codes and Industry Standards: Building codes and industry standards are always changing. A trustworthy fabricator guarantees that their aluminum profiles meet or surpass the necessary safety and performance requirements by staying up to speed with these laws. This compliance reduces the possibility of legal and financial penalties.
Cost-effectiveness: Although quality must never be sacrificed, a reputed fabricator may also assist in controlling expenses. They may offer reasonable prices because they have effective production methods and economies of scale. Additionally, the low maintenance and replacement costs associated with their high-quality profiles will result in cost savings during the curtain wall's lifespan.
What characteristics of curtain wall aluminum profile?
Shaped aluminum panels are a fresh and creative method of designing curtain walls.
An aluminum sheet is formed into the correct shape using a die for manufacturing these panels.
The panels may then be fastened to the curtain wall's frame using a number of techniques.
These panels are constructed of metal that has been shaped and measured precisely.
Rectangular, square, and triangle forms are the most prevalent.
Due to its excellent strength-to-weight ratio, corrosion resistance, and thermal and electrical conductivity. They are ideal for aerospace, automotive and construction applications
A Closer Look at the World of Architectural Marvels: Unveiling the Excellence of Manybest Curtain Wall Aluminum Profile Fabricators
Curtain walls are a recognized symbol of innovation and beauty in modern architecture. Form and function coexist in perfect harmony. These attractive buildings and modern facades made of glass and aluminum are altering urban settings worldwide. These architectural wonders result from the skilful fabrication of curtain wall aluminum profiles. Manybest, a well-known brand in this field, is the epitome of perfection in all spheres.
Cutting-Edge Design and Engineering: Manybest Curtain Wall Aluminum Profile Fabricator is proud to have a group of talented designers and engineers who combine their creativity with their technical knowledge. They work closely with the construction team and architects. Ensure that the aluminum profiles perfectly fit the architectural concept of the building. This commitment to design accuracy enhances the structure's aesthetic appeal and architectural integrity.
Uncompromising Quality Standards: Manybest curtain wall profiles are built on a foundation of quality. We use premium aluminum alloys and cutting-edge production methods to manufacture profiles that are strong and resistant to rust and weathering. This dedication to excellence ensures the curtain wall's durability and lowers maintenance expenses.
Sustainability and energy efficiency: Manybest knows the significance of energy-efficient building envelopes. We provide thermally fractured aluminum profiles that stop the heat flow, enhancing the structure's energy efficiency and occupant comfort. These profiles support environmentally friendly architecture solutions by being consistent with current sustainability targets.
Safety and compliance: Manybest keeps up with changing construction codes and professional requirements. Our curtain wall profiles routinely satisfy or surpass these specifications, assuring performance and safety. This commitment to compliance reduces the builders and developers' legal and financial risks.
Conclusion:
The world of architectural wonders is built on quality, and Manybest is the Curtain Wall Aluminum Profile Fabricator. We are a reliable partner for architects, builders and developers. They hope to transform their ideas into unique skyscrapers that will reshape the skyline. Because of their ongoing dedication to design, quality, energy efficiency and compliance. By choosing Manybest, you are investing in the creativity and innovation that defines our urban environment. Rather than just choosing a manufacturer.