Aluminum Ceiling Panels: The Ideal Combination of Style and Soundproofing for Improving Your Space
Shaped aluminum panels are a versatile choice for incorporating complex forms and shape into structures since they can be customized to a project's exact specifications. These panels, which come in various forms, sizes, and textures, may add personality and architectural flare to any building site. Shaped aluminum panels might be ideal for creating your chosen aesthetic, whether you want something sleek and contemporary or a more classic feel. A common thought regarding interior design and restoration is to paint the walls, replace the furniture, or upgrade the lighting. However, the ceiling is a frequently disregarded canvas that may change a room. An aluminum ceiling panel with soundproof is ideal if you want to add flair and soundproofing to your room simultaneously.
Besides being sleek and contemporary, aluminum ceiling panels are practical. They are adaptable enough to match any home décor style because they are available in various styles, finishes, and colours. Aluminum ceiling panels may be tailored to your preferences, whether you choose a clean, industrial vibe or a more classic, refined style.
Wonders of Soundproofing:
One of its most impressive features is the aluminium ceiling panels' ability to block out noise. Aluminum panels provide superior sound-absorbing qualities, unlike conventional plaster or drywall ceilings. This is especially useful in open-concept rooms, offices, or residences with boisterous neighbors or young children. By installing these panels, noise pollution may be greatly reduced, resulting in a more tranquil and effective atmosphere.
Aluminum is recognized for being strong and long-lasting. Aluminum ceiling panels, in contrast to other ceiling materials, are resistant to moisture, rust, and corrosion, guaranteeing they keep their spotless beauty for years to come. This durability lowers your environmental impact while saving you money on future replacements.
Ecologically sound option:
Aluminum is a very environmentally friendly substance, to speak of. Since it is entirely recyclable, you may reuse the old ceiling panels when you wish to replace them, reducing waste. By selecting aluminum ceiling panels, you can show that you care about the environment and lessen the use of natural resources.
Simple to Install and Maintain:
Installing aluminum ceiling panels is not too difficult, saving you time and money on labour. They also need little upkeep; a quick wipe-down with a moist towel generally keeps them spotless.
Material and Construction of A Curtain Wall Of Art Aluminum:
Even in difficult-to-access places, aluminum panels are the ideal option. They not only exhibit extraordinary strength and durability, but they also won't rust when exposed to external elements. Additionally, they may be custom-cut for a perfect fit and available in various sizes and forms to suit any need.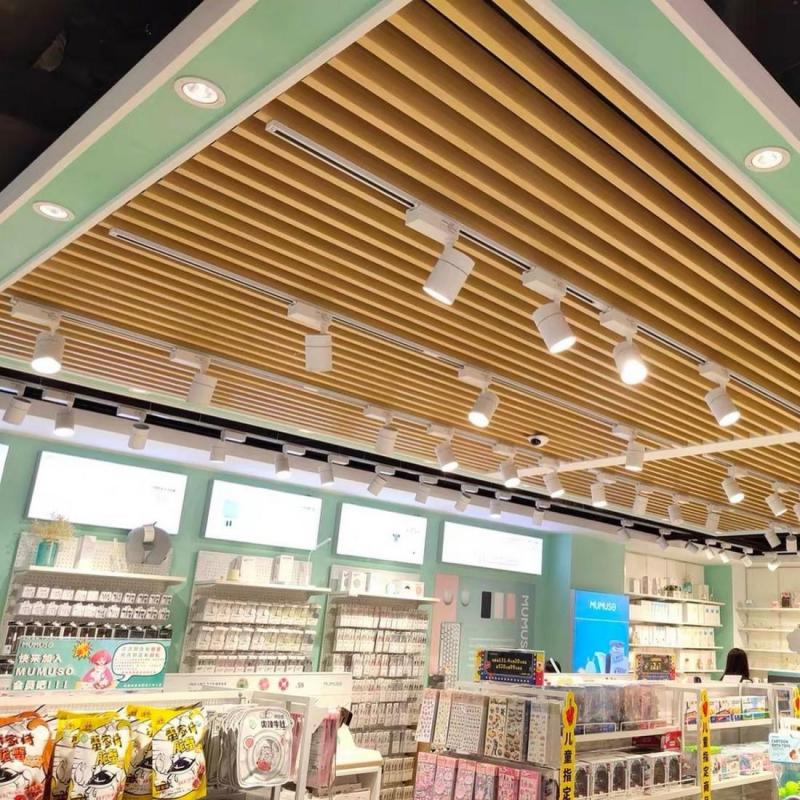 Aesthetic Appeal and Superior Soundproofing: Aluminum Ceiling Panels
Few materials are as adaptable and influential in interior design as the ceiling. Ceilings, which are frequently disregarded, are essential in determining the atmosphere of a place. While many other types of materials and styles are available, aluminum ceiling panels stand out as a fantastic option that not only improves the appearance of your room but also provides exceptional soundproofing capabilities.
Beauty Elegance: For its streamlined, contemporary look, aluminum ceiling panels are known. They may quickly turn a plain ceiling into a focal point. Aluminum panels may be tailored to fit your aesthetic choices, whether a clean, industrial style or a more complex design. Their reflecting surface may also provide the impression of space, making any space appear more open and light.
Wonders of Soundproofing: The ability of aluminum ceiling panels to block out noise is one of its less well-known advantages. Whether you live in a home or work in a busy environment, noise pollution may be a serious problem. Aluminum panels can block out sound, significantly lowering noise levels and fostering a calmer, more tranquil atmosphere. The purpose of these panels is to disperse and absorb sound waves to stop them from bouncing about the space. This makes them the perfect option for businesses, conference rooms, and even residences where peace is a priority because it improves the acoustic quality of the environment and assures seclusion.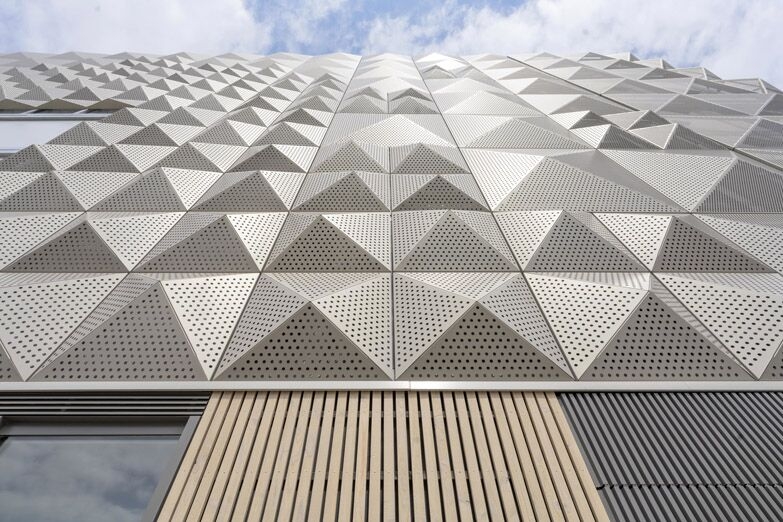 Simple to maintain: Aluminum ceiling panels require minimal maintenance. Their slick surface is simple to clean, removing the need for regular and expensive repairs. This low-maintenance feature is particularly suitable for business environments where time and resources are limited.
Shaped aluminum panel benefits:
Compared to other materials, curved aluminum panels give an advantage when it comes to the conception of structures and works of art. In addition to being lightweight and durable, aluminum panels have a reflecting shine that distinguishes any endeavour in the visual arts, including painting, sculpture, and photography. Additionally, these materials have superior thermal and acoustic qualities. In the end, this saves both time and money. Aluminum panels can also be continually treated for use in transportation and design, among other things.
Application of aluminum ceiling panel with soundproofing:
Shaped aluminum panels are the best solution for an attractive, durable product without the maintenance. Shaped aluminum panels make building curved walls and column coverings simple, which are the ideal finishing touch for various environments. These panels are a no-brainer choice because they are made to withstand everything Mother Nature throws at them and may be used in both residential and commercial settings.
Conclusion:
Aluminum ceiling panels are a practical and adaptable alternative that improves the ambience of your room while offering soundproofing advantages. We are more than simply a beautiful option. We are a long-term investment that adds value to any interior because of its strength, sustainability, and simplicity of maintenance. If you're remodelling a house or business, consider installing aluminum ceiling panels to give the room a new look and improved acoustics. Since its founding, Manybest has been committed to creating the best ceiling and decorative panels. "Customer First, Good Quality, and Best Service to Win" is the company's motto.