What is Aluminium wall panel?
Due to its adaptability, toughness, and aesthetic appeal, aluminium wall panels have become popular in modern architecture and interior design. These panels are often composed of corrosion-resistant lightweight aluminium, well-suited for interior and exterior uses. One of its main benefits is the versatility of aluminium wall panels in terms of design styles. They may be tailored in colour, texture, and finish to fit any architectural idea. Aluminium panels may be customized to match your needs, whether for a sleek, contemporary design or a more conventional, rustic appearance.
They are durable for building exteriors since they resist extreme weather, UV exposure, and wear and tear. The fire resistance of aluminium also adds to the overall safety of a structure. This panel installation is very simple, which helps expedite construction and save costs. Due to their modest weight, they are simple to handle and need little labour.
Why ManyBest is the best option for anyone searching for high-quality, long-lasting aluminium wall panels?
The choice of materials in building and interior design can greatly impact a project's quality, longevity, and overall aesthetics. Aluminium wall panels are a popular option for architects, builders, and designers seeking excellence in these areas. A renowned and dependable supplier of high-quality aluminium wall panels on the market is ManyBest Aluminium Wall Panel Manufacturer.
A Tradition of Excellence
The ManyBest Aluminium Wall Panel Manufacturer has a long history of quality. Our business has a reputation as a market leader and has continually provided consumers worldwide with excellent aluminium wall panels. This heritage demonstrates our dedication to excellence and client happiness.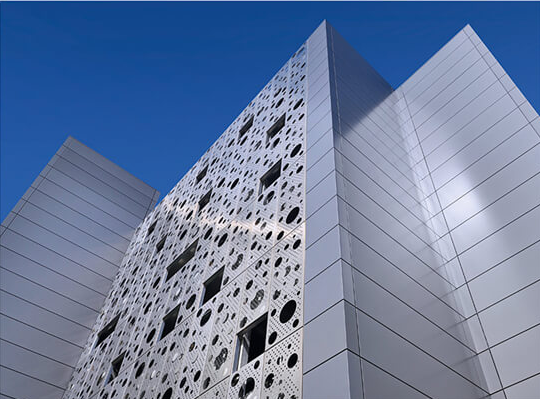 Superior Quality Control
We are distinguished by its persistent dedication to quality control as one of its key strengths. We use a strict quality control procedure to guarantee that every panel satisfies the highest requirements. Their attention to detail is unmatched, from the choice of raw materials to final product inspection. Our commitment to quality results in aluminium wall panels that are durable as well as aesthetically pleasing.
Choices for Customization
We know that every project is different and no two projects are the same. Therefore, we offer various customization possibilities for aluminum wall panels. No matter what color, finish, texture or size you choose, we may modify our items to suit your needs. This degree of adaptability enables designers and architects to realize their imaginative concepts.
Durability That Stands the Test of Time
Construction projects must be built to last, and ManyBest aluminium wall panels are built to do just that. They are made of premium aluminium, which has a remarkable resistance to corrosion and wear. In applications where exposure to the elements could be a problem, such as indoor and outdoor ones, this qualifies Manybest's panels for use. The fire resistance of aluminium further increases the safety of any construction.
Outstanding customer service
Customer satisfaction is the cornerstone of business at ManyBest. When choosing the appropriate panels for your project or getting technical support, our committed customer care team is always available to help. Because of our dedication to providing top-notch customer service, we have developed a reputation as a trustworthy and quick-to-respond partner in building and designing projects.
Worldwide Reach
With customers worldwide, ManyBest Aluminium Wall Panel Manufacturer has a global presence. No matter where their projects are situated, architects, builders, and designers may get their premium aluminium wall panels thanks to our wide distribution network. Our widespread presence attests to our good standing and dependability across the world.
Testimonials That Speak Volumes
The comments and evaluations from pleased consumers frequently demonstrate the calibre of a manufacturer's goods. Numerous glowing reviews of ManyBest Aluminium Panel Manufacturer's goods and services can be found on our website. These endorsements demonstrate our commitment to quality.
Unlocking the benefits of Flat Aluminium Panels' Style, Robustness, and Sustainability:
Flat aluminium panels have revolutionized the building industry by boosting the beauty and durability of architectural and interior projects. Architects, designers, and builders can't overlook these stylish, adaptable panels' benefits. In this blog article, we shall explore the advantages of flat aluminium panels, from their cutting-edge design to their astounding endurance and environmental friendliness.
Modern design is synonymous with flat aluminium panels. They are ideal for modern architecture projects because of their streamlined, minimalistic design and smooth, clear lines. These panels may quickly improve the aesthetics, giving your design a modern and sophisticated appearance, whether working in a home, commercial, or industrial environment.
Flat aluminium panels have a variety of treatments, which is one of its distinguishing qualities. You may tailor your project to your chosen style by selecting various choices, including matte, gloss, textured, or metallic finishes. Flat aluminium panels may easily conform to your vision, whether you're going for an industrial, high-tech, or vintage appearance.
Building materials' durability is key, and flat aluminium panels meet this need. These panels are perfect for both interior and outdoor applications since they are built to endure the toughest environments. They have a high level of resistance to rust, moisture, UV radiation, and temperature changes, guaranteeing that they will keep their spotless appearance over time.
Nearly maintenance-free are flat aluminium panels. Aluminium panels maintain their original appearance without requiring much work, unlike other construction materials requiring frequent painting or sealing. This low-maintenance component helps your project remain viable over the long run while saving time and money.
Conclusion:
Today's construction industry has a growing demand for high-quality and durable building materials. One such material that has gained significant popularity is aluminium wall panels. These panels are known for their aesthetic appeal, durability, and longevity. However, if you want a durable, stylish, and cost-effective solution, our aluminium wall panels should be your top choice. With our exceptional craftsmanship and innovative designs, ManyBest has positioned itself as a leader in aluminium wall panel manufacturer.