Curved baffle ceilings are a specific kind of suspended ceilings that make use of curved metal baffles to produce a one-of-a-kind and three-dimensional appearance in the space. Let's get to know what curved baffle ceiling is and where to buy custom curved baffle ceilings.
What is baffle ceiling?
A baffle ceiling system can make an interior room stand out and look amazing. The width, height, and distance between the baffles may all be adjusted within this system, making it possible to achieve a high level of customization. The Baffle ceiling system is a fantastic option, both in terms of its visual appeal and its overall performance. It is a form of open ceiling construction that is strung vertically in a variety of different combinations and patterns. As a result, it lends a one-of-a-kind appearance and atmosphere to each room.
This suspended form of ceiling system is a great alternative for large spaces that have limited wall space and restricted access to ceiling services. These ceilings have a one-of-a-kind appearance that may be attributed to the fact that they are constructed using wood, metal, and any other material that can absorb sound.
What are the benefits of baffle ceiling?
Good Acoustic: The acoustic comfort of any commercial area contributes to the general improvement of the well-being of the people who occupy that space. For instance, a ceiling equipped with acoustic baffles contributes to the decrease of ambient noise. This is one of the features that make baffle one of the most popular ceiling options for use in office buildings, commercial complexes, educational institutions, and theatres, among other types of buildings.
Fire-Resistance: In addition to lowering the level of ambient noise and making interiors more aesthetically pleasing, baffles are excellent at preventing fires. Because of this, they are an excellent choice for establishments such as restaurants, pubs, airports, and a wide variety of other business areas.
Cost-effective: In comparison to the several other kinds of acoustic solutions that are currently available on the market, baffle ceilings are an extremely cost-effective option. You can easily limit the disruption to your workflow by installing acoustic baffles in the ceiling once it has been installed.
What is curved baffle ceiling?
A form of ceiling system known as a curved baffle ceiling system is one in which the eaves are curled inwardly to produce a sound field with a low-pitched frequency range. Curved baffles are occasionally utilized instead of straight baffles in ceilings that are attempting to produce a more distinctive and three-dimensional design. This is done to get the same effect. In addition to this, the curved baffle enables greater sound transmission and results in excellent acoustics.
Curve acoustic baffles provide a humorous and reliable solution to soundscaping any space, regardless of its size. They are simple to install, and in addition to improving the room's echo and reverberation, they also provide visual interest to an otherwise empty ceiling. These panels could very well be the way of the future given their superior acoustical capabilities, as well as their wide range of colors, coatings, and curved design options. The installation of these baffle ceilings will give your room an elegant appearance.
Importance of curved baffle ceiling:
Curved baffle ceilings are a fantastic option for homeowners looking to enhance the acoustics of their homes. They have the potential to lessen the effects of reflections and absorb excess noise. A recording studio or performance space can benefit from having better acoustics if the ceiling is designed with curved baffles. The curved design contributes to the dispersion of sound waves, which ultimately results in improved sound quality. In addition to that, the ceiling is curved, which helps to cut down on reverberation and echoes. Curved ceilings can give a place an appearance that is not only distinctive but also fashionable.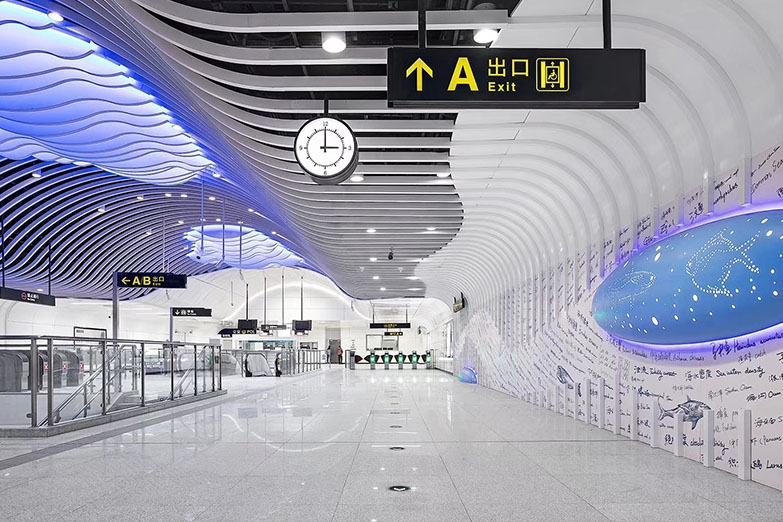 Things to consider before buying curved baffle ceiling:
Curved baffles can give any environment a feeling of luxury and sophistication. In addition to that, you can utilize them to lessen the amount of noise in a room or to enhance ventilation. Before settling on a decision to install a curved baffle ceiling, there are a few aspects of the project that need your attention first.
The requirement for adequate ventilation is the first item you need to give some thought to. Do you prefer to work on improving ventilation or decreasing the amount of noise? If you choose to install a curved baffle ceiling, you will be responsible for ensuring that there is adequate air circulation throughout the space. When compared to a straight baffle ceiling, a curved baffle ceiling will require a greater amount of ventilation.
One last thing that you should think about is the color that you wish to employ. Do you want to give the impression that you run a polished and successful business, or do you want to make your home appear more luxurious? If you opt for a curved baffle ceiling, you will need to select a hue that exudes both professionalism and opulence to pull it off well.
Last but not least, before making the purchase, you need to determine whether or not the company that manufactured it or the brand has a positive reputation. You don't want to throw away your money, so make sure you get it from a recognized company. You will have a curved baffle ceiling of extremely high quality if you purchase a product from a reputable brand. A reliable manufacturer will be able to supply you with a curved baffle ceiling system that is customized to your specifications. Before you go out and buy a curved baffle ceiling system, make sure you give these three factors some thought.
Where to buy custom curved baffle ceilings?
If you are confused that where to buy custom curved baffle ceilings, we are here to help. Because of the quality and depth of their staff, ManyBest is your best option when shopping for a curved baffle ceiling that is made to order. They sell items that are made from high-quality materials. In addition to this, they are devoted to the satisfaction of their clients and work hard to meet all of their requirements.
Designs of curved baffle ceiling:
There are different curved baffle ceilings.
Rectangular profile curved baffle:
Two different kinds of curves can be used for rectangular profiles. Both of these curves have a fixed section and great dimensional precision throughout. These baffles can be bent in either vertical or horizontal planes using special molds, and they can be customized to match the requirements of any given design within a range of angles.
Shuttle-shaped profile curved baffle:
To achieve more flow in the visual expression, shuttle-shaped baffle profiles can be used to enable more curved surfaces in a single baffle. These smooth fins can also be curved horizontally or vertically.
Honeycomb curved baffle:
This type of baffle is made with special edge profiles that follow the curvature of honeycomb panels, which can achieve horizontal or vertical curving. A wide range of baffle widths is available to select from, while different cross sections and curve radians can also be customized for the upper and lower edges.
Variable form curved baffle:
For this type of baffle, the curves are achieved through a proprietary forming process with a customizable special edge profile, be it to achieve a flat or curved face, to produce vertical curving. The variable form can be made into curved baffle products with different cross sections, or with straight upper edges and curved lower edges.
Features of curved baffle ceiling:
The ceiling has a wonderful appearance thanks to the curved baffles.
This baffle ceiling comes in a variety of colors for your selection.
It is a solution to the roof and wall systems that are more economical in terms of cost.
It has a unique design methodology or custom-made designs.
The exceptional performance and superior quality of the items used in a custom baffle ceiling.
It offers metal walls that may be fabricated to the customer's specifications and coordinated with ceilings and other interior design elements.
It is also resistant to corrosion, thermal instability, and the elements, in addition to being fireproof.
It offers a simple and speedy solution to a contemporary setting.
These baffle ceilings have a clean appearance and are robust, making them perfect for use in big open areas.
Because of its characteristics, it is an excellent choice for the arrangement of ventilators and hydrants because it does not affect the overall visual impression, has a uniform color, and is shiny.
Conclusion:
The most recent trend in ceiling design is the use of curved baffle ceilings. They are a fantastic way to add visual interest to a space, and they may also assist to improve the acoustics of a room. They come in a variety of shapes, sizes, and colors. If you're wondering where to buy custom curved baffle ceilings, ManyBest is the place. If you buy from us, we guarantee your satisfaction.