The Versatility and Elegance of Perforated Aluminium Cladding:
Perforated aluminium cladding is an architectural wonder that combines beauty and versatility to create stunning works of art. This ground-breaking building material has become well-known for its capacity to elevate standard constructions to the level of spectacular works of art. The adaptability of cladding is one of its distinguishing qualities. It has many uses for architects and designers, from outside facades to internal barriers. Its light weight makes it simple and enables complex and imaginative patterns. Perforated cladding may adapt to your vision, whether you want to create a modern metropolitan appearance or a classic aesthetic.
The ability to play with light and shadow makes it so beautiful. The holes, which come in various sizes and forms that may be customized, offer privacy and sun protection while allowing natural light to pass through. The structure acquires a distinct personality throughout the day because of the dynamic interplay of light. Perforated cladding also has practical advantages.
It works well as a thermal insulator, helping control indoor temperatures and save energy. Due to its longevity-ensuring durability, it is a sustainable option for projects that prioritize the environment. Because it requires little cleaning and maintenance, maintenance is simple. The beauty goes beyond its aesthetic appeal. Its streamlined and contemporary look blends well with various architectural designs, making it appropriate for residential and commercial buildings. It also comes in various textures, including matte, glossy, and textured, allowing designers to alter the appearance to fit their tastes.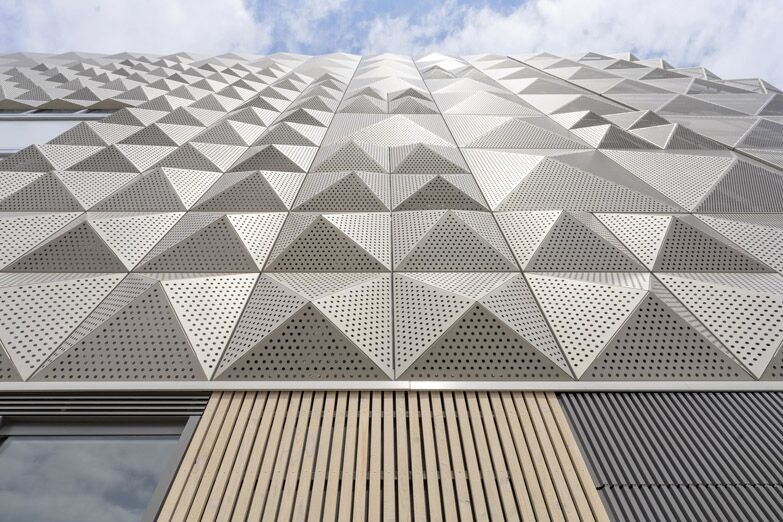 The Many Advantages of Using Perforated Aluminum Cladding:
This blog post will examine the many benefits of using perforated aluminium cladding in construction projects. This aluminium cladding is becoming increasingly well-liked as an adaptable and sustainable building material, offering a variety of benefits that make it a top choice for architects, builders, and property owners.
Controlling sunlight: Perforated cladding works well as a sunshade. The quantity of sunlight penetrating a building may be carefully placed on the façade, allowing builders to minimize glare and the need for excessive artificial lighting.
Energy Efficiency: It helps to increase energy efficiency since it can control temperature and light. Lowering heating and cooling costs can eventually result in considerable cost savings.
Aesthetic Appeal: It gives structures a sleek, contemporary appearance. Its sleek, metallic look may be adjusted with different perforation patterns and finishes, enabling one-of-a-kind and striking designs.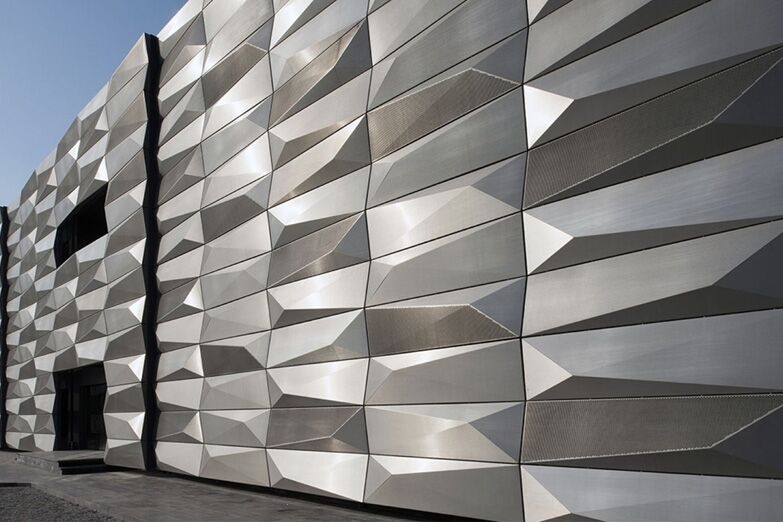 Natural Ventilation: It is notable for its capacity to provide natural ventilation. The cladding's minute perforations allow for fresh air's free passage while offering shade and solitude. In addition to improving interior comfort, this lowers the energy needed to run cooling systems.
Durability: Aluminum is renowned for its resistance to corrosion and long lifespan. This also applies to aluminium siding with perforations. Because of its resilience to extreme weather, the building will continue to look good and be structurally sound for many years.
Low upkeep: Aluminum requires less upkeep than some other cladding materials. It often requires occasional cleaning to keep it appearing spotless, making it an overall cost-effective option.
Environmentally Friendly: Aluminum is a very environmentally responsible material. It is eco-friendly for projects that care about the environment because it is 100 per cent recyclable and has little carbon impact.
Modernization of Manufacturing Processes:
The manufacture of high-quality and adaptable wall cladding panels has been made possible by the aluminium industry's impressive advancements in manufacturing methods. To produce remarkable goods, Foshan Manybest Building Material Co., Ltd played a crucial role in implementing and improving these procedures. Perforated aluminium cladding is more durable and weather-resistant thanks to modern extrusion techniques like powder coating and anodizing, making them appropriate for various architectural uses.
Expanding Possibilities with New Products:
The options for aluminium metal wall cladding have been expanded thanks to the continual introduction of new, cutting-edge products by Foshan Manybest Building Material Co., Ltd. The advent of perforated aluminium cladding is one such breakthrough. These panels have carefully positioned holes that enhance visual appeal, ventilation, and light transmission while adding a modern style. This innovative product has won the appeal wherever beauty and utility meet in commercial structures. Integrating LED lights into aluminium cladding panels is another intriguing Foshan Manybest product line expansion. This innovative innovation gives energy-efficient lighting options and improves the aesthetic appeal of buildings. The incorporation of LED technology into aluminium panels demonstrates the company's dedication to pushing the frontiers of style and utility.
Your Reliable Manufacturer: Foshan Manybest Building Material Co., Ltd.
Foshan Manybest Building Material Co., Ltd. is a reputable supplier to consider when looking for high-quality aluminium metal wall cladding. They provide a wide selection of customizable choices to satisfy the particular needs of each project, thanks to their many years of experience in the field. They have become a reputable brand in the industry thanks to their dedication to quality, innovation, and client happiness. Foshan Manybest Building Material Co., Ltd. takes great satisfaction in offering its clients unmatched customer care and support. Their specialists collaborate closely with architects, designers, and builders to comprehend project requirements and offer customized solutions. They guarantee a flawless experience from beginning to end, providing everything from design advice to on-time delivery and installation instructions.
Conclusion:
A versatile and attractive option for architects and designers eager to push the limits of creativity is perforated aluminium cladding. It is a popular option for modern construction projects because of its versatility, play with light, and practical advantages. Perforated aluminium cladding may realize your design visions, giving a lasting impression of refinement and originality, whether for a contemporary front or a classic interior. These advancements have been greatly aided by Foshan Manybest Building Material Co., Ltd, which provides architects and designers with various solutions for beautiful and environmentally friendly structures. Observing the industry's ongoing progress and the limitless opportunities it gives for upcoming architectural ideas is fascinating as the demand for aluminium metal wall cladding rises.