If you are in the market for a new fence for your home, you may be considering whether or not aluminum is the material you should go with. Let's get into the detail of aluminum fences and know that can aluminum fences be customized or not.
What are fences?
A fence is a structure that encloses an area, normally outside, and is typically built from posts that are joined by boards, wire, rails, or netting. This type of building is known as a perimeter fence. The term "fence" is commonly used to describe this type of physical barrier. Posts, which are often sunk into the ground before being linked to one another using a variety of methods, are the most common component used in the construction of fences. Picket fences made of wood are the most frequent type. Any property can benefit from the installation of a fence due to its adaptability. A homeowner or business owner can benefit from fencing not only as an attractive exterior element but also as an evident indicator of the beginning and conclusion of their private property.
What is aluminum fence?
An aluminum fence, in contrast to other types of metal fencing, is not only exceptionally cost-effective and lightweight, but it is also very elegant and gorgeous. Aluminum fences have remarkable strength properties. Aluminum has been included in the production of a wide variety of diverse products. It is not only lightweight but also highly sturdy and strong. And while aluminum has been used in manufacturing for many years, only recently have people started to investigate the benefits of using aluminum for fencing. This is because the wood or wrought iron is typically used in the construction of traditional privacy or security fencing.
It took some time before aluminum was widely employed by fence producers because both materials were used so frequently. But since it was first introduced, aluminum fencing has become very popular for a variety of reasons. Aluminum is readily available, which makes it simple to get and reasonably affordable to work with. This is perhaps its most important quality.
Why Aluminum Fencing?
Aluminum fencing is exceptionally long-lasting and requires very little upkeep. Aluminum fencing may last a lifetime with only a small amount of maintenance and does not need to be stained or treated regularly to maintain its condition looking good. When we make our aluminum metal fence panels, we use a procedure that is favorable to the environment called powder coating. This gives the panels great longevity, as well as superior corrosion resistance, and they have limited fading and weathering. It adds sophistication and beauty to your environment. Aluminum fences are rapidly gaining in popularity as a residential option.
Applications of aluminum fences:
Aluminum fences are most commonly installed in residential and commercial settings. The residential-grade of aluminum fence is the most cost-effective alternative that is currently available, and it is sturdy enough to be used in virtually any situation where there is an emphasis on safety. The enclosure of swimming pools, gardens, and gates, as well as the enhancement of landscape designs, are common applications for residential-grade aluminum fencing. Your garden will become not simply a garden, but also a quiet and creative space if you install aluminum fences around its perimeter. In addition to that, it gives your gate an elegant appearance.
For any commercial or industrial use, an aluminum privacy fence is the best choice for a heavy-duty privacy and security fence that requires very little maintenance. For a boundary that is not only robust but also long-lasting and protective, aluminum fencing is the material of choice. These fences are almost impossible to break through, making them the ideal choice for protecting the boundary of your property. Put up a fence that not only looks nice but also provides a high level of protection and will survive for many generations.
Can aluminum fences be customized?
Many people are concerned about the thing that can aluminum fences be customized or not. The answer is yes, they can be customized to your needs. When you purchase ManyBest, the stunning fences we offer will be crafted according to the particulars of your order. Standard fasteners can be used to secure it to a variety of surfaces, including bricks, wood, plasterboard, and brickwork. In addition to the freedom of shape that we allow for your panel, we also provide a wide range of color options for you to choose from. You have access to more than 3000 distinct color options. You will be provided with the precise product that you require for the completion of your project because it will feature customized perforations, customized sizing, and careful consideration of your needs.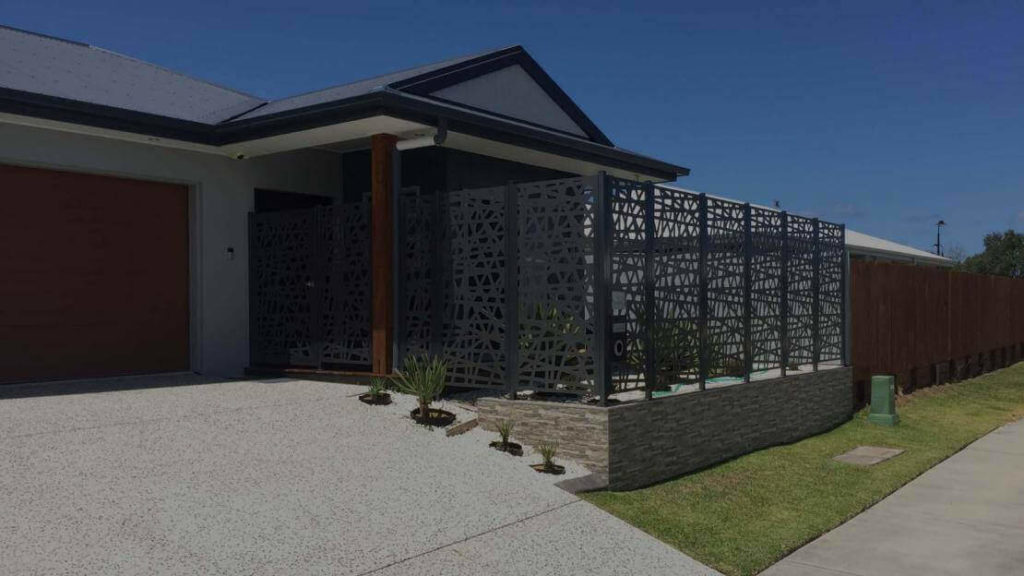 Benefits of aluminum fences:
Low Maintenance:
The fact that you will need to perform very little maintenance on an aluminum fence throughout its lifetime is one of the most significant advantages associated with this type of fence. You won't have to do any care at all, other than giving it an occasional hosing down to get rid of dirt or grass clippings. The powder coating will remain intact for the duration of the fence's existence.
Increased Property Value:
The addition of a beautiful aluminum fence to your yard will result in a rise in the value of your home. There is nothing that has a greater direct influence on the value of your property than curb appeal, and aluminum fences have aesthetic appeal in abundance. There is also nothing else that has a more direct impact on the value of your home than curb appeal. After installing your aluminum fence, you will immediately have instant equity, which will result in the value of your home increasing by thousands of dollars overnight.
You have access to a plethora of different designs from which to select one that will look well on your house. Your yard will look even better thanks to the natural beauty that is already present there. An aluminum fence is an excellent option for homeowners who wish to improve the visual appeal of both their property and their outside space. Aluminum fences can be made to resemble virtually any other material, but regardless of their appearance, they will always have a consistent quality and attractiveness that will contribute to the overall charm of your home.
Sustainable and kind to the environment:
Aluminum fencing is the best option to consider if you are concerned about the influence your fence will have on the environment. To begin, the majority of products created from aluminum fencing are built from recycled aluminum, which helps to reduce waste. In addition, if you decide to finally replace your fence a few decades from now, the old one may be recycled once more, which will cut down on the quantity of garbage sent to landfills. The production of these fences also requires very little energy, making them an excellent choice for the environmentally conscious paradise that you have created.
Traditional wrought iron fencing is far more expensive than aluminum fencing. Aluminum has a much longer lifespan than wood, which degrades over time and requires more frequent maintenance and replacement. Even though aluminum fencing is more expensive than wooden fencing, the fact that it requires hardly any maintenance could end up saving you money in the long run.
Aluminum fences have the advantage of being robust, durable, and highly good at ensuring protection on your property. Although all fences should be safe and secure, aluminum fences have the added benefit of being safe and secure. This is especially important in locations such as the pool to prevent young children from approaching when you are not around to supervise them. The fact that most criminals choose the road with the least amount of difficulty suggests that a sturdy fence made of aluminum could provide the necessary notice to keep them away.
Aluminum fencing is modular, which means it is easy to add or remove sections as the work requires. Because of this, aluminum fencing is suited for practically any circumstance. Aluminum can be installed on virtually any surface, whether it be a tiny, level area surrounding your porch or pool, or a vast, sloped piece of ground that is a part of your property. Aluminum fencing may be built to a variety of heights and styles, and even painted in a variety of colors. As a result, aluminum fences can be installed virtually anywhere on your property.
Conclusion:
For hundreds of years, aluminum fencing has been used to enhance the aesthetic appeal of the architecture of homes, businesses, and churches. If you believe that an aluminum fence is the greatest option for meeting the needs that you have, please do not hesitate to get in touch with ManyBest so that we can tell you more about the aluminum fence supplies that we offer. If you're thinking "Can aluminum fences be customized", ye we can customize your aluminum fence to meet all of your specific requirements.