Manybest is pleased to announce its new line of aluminum perforated panels with CNC technology for ideal acoustic performance. Using CNC technology, ManyBest's aluminum perforated panels are created with accurate holes of precise size and shape. This ensures that each panel has the ideal number and size of holes for both aesthetic and acoustic purposes.
Aluminum Perforated Panel Partition Wall For Commercial or Domestic Use
Aluminum perforated panels are a great way to create privacy and add visual interest to your home. They are lightweight, easy to install, and can be customized in any size.
Aluminum perforated panels are typically used for partition walls in commercial and domestic settings. They can act as room dividers or create a partition between rooms. When building a new home or remodeling an existing one, aluminum perforated panels can be used to create walls that separate different areas of the building while still allowing light to pass through the holes in the aluminum sheeting.
Aluminum perforated panel partitions are available at many hardware stores and home improvement centers. You can also find them online if you don't have access to these retailers near you. If you plan on using them for privacy, make sure that they come with all of the necessary mounting hardware so that you don't have to create holes in your walls before installing them properly.
Do You Know About Aluminum Perforated Panel Application?
Aluminum perforated panels are widely used in the field of construction and decoration. There are many different kinds of aluminum perforated panels on the market, such as aluminum perforated panels and so on. In order to meet the needs of customers, we will introduce some common applications of aluminum perforated panels:
As the most commonly used application of aluminum perforated panels, it is widely used for decoration purposes. You can use it to decorate your home, office, or other places. It is also used for automobiles, ships, and other vehicles.
The second application of aluminum perforated panels includes construction purposes. Aluminum perforated panel has good fireproof performance and can be used in high-rise buildings and other public buildings. It also has excellent corrosion resistance performance, which makes it easy to install in coastal areas or other locations with high humidity and salt environment conditions.
The third application of aluminum perforated panels includes industrial applications. Aluminum perforated panels can be used as an interior partition material in factories, warehouses, and other warehouses and other industrial buildings. For example, it can be used as a wall covering to separate different parts of the building. The aluminum perforated panels can also be used as ceiling tiles for decoration and insulation purposes.
Custom Aluminum Perforated Panels In China
Manybest is a professional manufacturer of aluminum perforated panels, which is located in Guangzhou City, China. We are specialized in manufacturing and exporting various kinds of aluminum perforated sheets.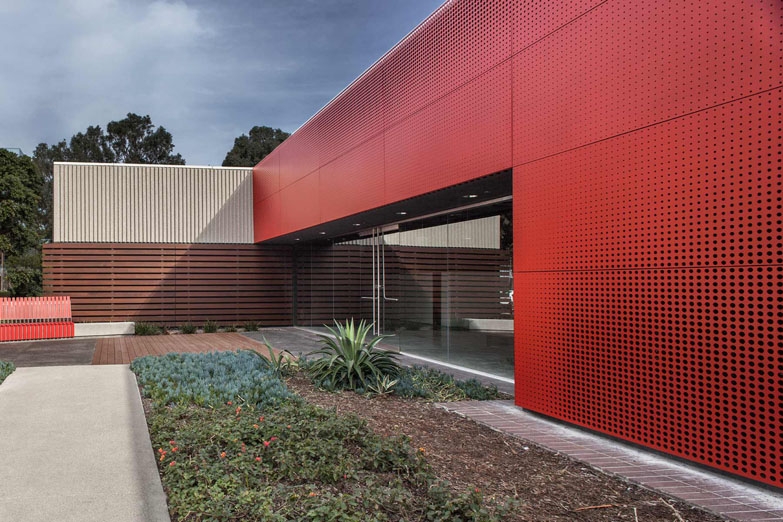 Our products include aluminum perforated sheets, punched aluminum panels and etc. We can provide many different sizes and colors to meet your demands. And our products are widely used for decoration and partition in architecture, interior decoration, and so on.
The products can be made of different thicknesses according to your requirement, such as 0.3mm-0.6mm aluminum sheet, 0.4mm-0.8mm punched aluminum panel (aluminum perforated sheet), 1mm-2mm punching aluminum panels, and so on.
If you want to buy cheap and high-quality aluminum perforated panels from a China factory directly, welcome to contact us!
Why Your House Should Have Aluminum Perforated Panels?
Aluminum perforated panels are widely used in many industries. These panels with large holes can be used as a facade and wall material, as well as a partitioning system. This is because they have many advantages.
The main advantages of aluminum perforated panels are the following:
Light Weight & Easy to Install – Aluminum is a light metal that is easy to install and replace. This means that you can install aluminum panels yourself or hire someone to do it for you. If you want to replace your old roof with new aluminum panel roofing, then you will only need a few days to finish the installation process.
Cost Effective – Aluminum perforated panels are cost-effective because they require minimal maintenance and they can last for many years without getting damaged easily by weathering factors like rain or snow. They also do not require much maintenance like painting or cleaning which means that you can save money on this part of the process too!
Durability – Aluminum perforated panels are durable due to their lightweight nature and corrosion resistance properties which make them ideal for use in different applications such as commercial buildings, residential buildings, warehouses, and other industrial applications where durability is key!
How to Pick The Right Aluminum Perforated Panel?
Aluminum perforated panels are a popular choice for exterior cladding such as siding, facades, and roofing. They can also be used for interior walls, ceilings, and partitions. Although aluminum perforated panels look similar to their steel counterparts, there are some notable differences in the manufacturing process and physical properties that you should consider before making your purchase.
Aluminum Perforated Panels VS Steel Perforated Panels
Aluminum perforated panels are made by punching holes into sheets of aluminum using pressurized water or compressed air, while steel perforated panels use plasma or laser cutting technology. The results are similar but not identical — aluminum is softer than steel and will have slightly less rigidity than its counterpart. This means that aluminum perforated panels may bend or dent more easily than steel ones when they are hit with a heavy object, such as a sledgehammer or baseball bat.
Aluminum Perforated Panel VS Vinyl Perforated Panel
An Aluminum perforated panel is an excellent choice for exterior applications because it prevents water from entering the building envelope. However, the vinyl perforated panel is better suited for interior uses because it does not require maintenance (no paint) and can be cleaned easily.
Concluding Remarks
The ManyBest punching aluminum perforated panel is a high-quality and aesthetically pleasing acoustic solution. ManyBest offers a wide range of punching aluminum perforated panels for different needs and applications, such as hotels, apartments, offices, and other buildings.