ManyBest Aluminum Fence is a leading supplier of aluminum fencing, aluminum slats, and aluminum privacy fences. We offer quality products at the best prices for both residential and commercial customers in the United States. We also custom-build aluminum fences for any size job.
Our aluminum fencing has been installed by hundreds of satisfied customers nationwide because we offer quality products at unbeatable prices backed by excellent customer service. ManyBest Aluminum Fence can make sure you get exactly what you need the first time!
Do You Need Aluminum Fences?
Aluminum has become a staple in the fence industry, and it's no wonder why. Aluminum is lightweight, durable, and affordable. It can be used to make any style of fencing from the simplest of chain link fences to the most complicated and expensive custom designs.
It doesn't matter what kind of fence you want, or how many different types you need, aluminum is a great choice because it's versatile and easy to work with. Aluminum also has a reputation for being more resistant to weather and sunlight than other materials like wood or steel. This makes it an excellent choice for protecting your home from storms, pests, and other elements that could cause damage over time.
Aluminum fences are an ideal choice for those who want to create a sense of privacy while keeping their property looking attractive. For example, if you have a single-story home with a view of the street, an aluminum fence can help block out unwanted views and give you the privacy that you need. They are also great for anyone who wants to keep their lawn free from debris and other debris that might damage plants or flowers.
The Best Uses For Aluminum Fences
If you are looking for the best uses for aluminum fences, then you have come to the right place.
Aluminum is a very versatile metal that can be used in many different ways. It is lightweight and easy to work with, which makes it perfect for construction projects. You can use it in your home or business to create beautiful additions that will enhance your property's aesthetic appeal.
Aluminum fences are one of the most versatile and popular options for homeowners. They come in a variety of styles, sizes, and shapes that allow you to create the look you want for your property. From garden fences to privacy fences, aluminum is the perfect material for almost any outdoor space.
The most common uses for aluminum fences are:
1. Security: Aluminium fences are great for security purposes because they are sturdy and can withstand the elements. They are also affordable, which makes them an excellent choice for homeowners who want to keep their property safe from intruders.
2. Decorative: Aluminum fencing can also be used as a decorative element in your yard or garden. They come in many different styles and patterns, so you can add a unique touch to your property with this material.
3. Privacy: If you need privacy but still want to enjoy the beauty of nature around your home then an aluminum fence is the perfect solution! With aluminum fencing, you can enjoy both style and functionality without sacrificing any of your privacy needs.
Why Aluminum Fences Are People Best Choice?
Aluminum fencing is a great way to give your property a new look and feel. Many people are looking for ways to spruce up their yards, and aluminum fencing is a good choice. An aluminum fence offers great features like strength and durability, as well as affordability. If you want to add value to your home or property, an aluminum fence is a great way to do it.
Aluminum fences can be painted or stained to match the color of your home or garden. Aluminum is an ideal material for privacy fences because it's strong enough to keep out unwanted intruders but thin enough that pets aren't able to damage it either.
If you want to know if your current fence will work with your new addition, or if you want to know if you need an upgrade now or later on down the road, then consider making an appointment with ManyBest Aluminum Fence today!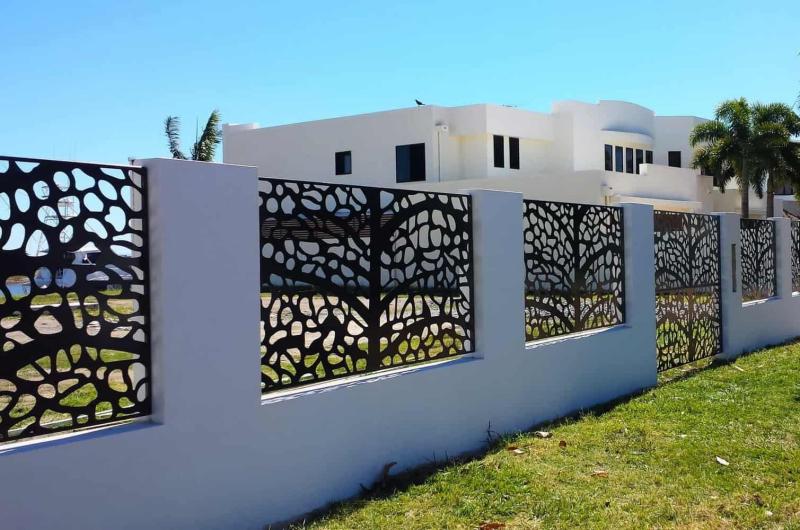 Aluminum Fences: Unique Design For The Modern Home
Aluminum is a lightweight metal that has been used for many years. It can be used in a wide range of applications, from roofing to fencing and much more. Aluminum fencing is one of the most popular choices among homeowners today and it comes in many different styles, shapes, and sizes.
Aluminum fences are a great choice for your home. They are lightweight, strong, and affordable. You can find aluminum fences that are rust-resistant and will last for years without any maintenance. Aluminum fences also come in a variety of styles and colors to match your home's exterior perfectly.
The best part about aluminum fences is that they have many different options for installation. You can choose from traditional posts or picket style posts, or even use the same style posts but with a more contemporary look by using railings instead of post caps.
ManyBest Custom Aluminum Fences For Your Needs
ManyBest offers a wide selection of aluminum fences at competitive prices. Our friendly staff will help you select the perfect product for your needs. From simple privacy screens to complete walkways, we have the right solution for you.
ManyBest can also offer you custom aluminum fences that are built in accordance with your specifications and requirements. You may choose from our wide range of designs or we can provide you with a custom design that suits your needs perfectly. If you want to create an attractive-looking patio or gate, our team is ready to help you out!
Concluding Remarks
ManyBest Aluminum Fence is one of the most trusted aluminum fence companies in the country. We provide aluminum fences and privacy fences, with a wide selection of options to meet all your needs. Our company has grown tremendously and we are now one of the largest suppliers of Aluminum Fencing in China.